Rachel A. Lamb
It was summer when I visited puppy mills in Lancaster County, Pennsylvania. In the last few years, the area has become a hub for large scale commercial dog breeding operations. And although the Midwest still ranks as containing the highest number of dog breeding operations, the concentration of puppy mills in Lancaster County is unparalleled.
Accompanying me was a Humane Society of the United States investigator who had monitored the Pennsylvania mills for years. He knew the county well, and had seen not only the proliferation of puppy mills in the area, but at the same time, the increased press and public attention in their operations.
Driving through the pastoral landscape, it seemed impossible that animal suffering could exist amidst such beauty. This illusion was quickly shattered with my first view of a puppy mill. For years, I had seen and studied photos of infamous facilities, but nothing prepared me for seeing the real thing with my own eyes.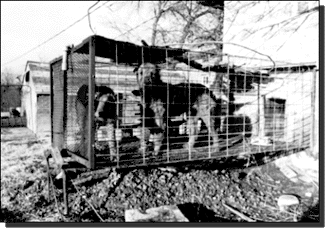 We approached a farmhouse from the road and turned onto a muddy lane. Rounding the corner, we didn't even have to get out of the truck to see or hear what awaited us. Rows of dilapidated cages were lined up outside a barn. Stopping the truck, my throat constricted with shock. Dogs were crammed three or more to a small cage which were elevated over mounds of feces. Matted fur covered their eyes as they rushed towards the front of their cages, barking at uninvited visitors. Their plight was so dramatically different than the dogs I knew, the dogs who lie lazily in afternoon sun, waiting for their next meal or walk. No, these dogs were here for a purpose and only one purpose: to make money.
We saw many mills that day. Posing as buyers, we were able to handle and examine some of the puppies. Many seemed sickly, disoriented, and underweight. And when we were allowed to see their mothers, or sneaked onto a farm to view the conditions, the hopelessness of their lives weighed on me like a heavy load that rests on my shoulders even to this day.
Dogs hold a special place in our hearts. Domesticated thousands of years ago, they were chosen to be our protectors, companions, and best friends. And although we have betrayed our responsibility towards them in many ways, none is so distressing or disturbing as the puppy mill.
The term "puppy mill," coined in the mid-to-late sixties to describe large scale commercial dog breeding facilities, has only recently arrived in the mainstream vernacular. It is a term that some claim is sensational and manipulative. The word "mill" refers to an operation that churns out dogs in mass, using female dogs as nothing more than breeding machines. The term conjures images of dogs crowded in wire cages, living in their own wastes, shivering from the cold, or baking in the heat. Tragically, this vision is not far from reality. Most people, not just those interested in animal protection, are shocked when confronted with the bleak images of dogs housed and bred in puppy mills. But in the 5,000 puppy mills found across the country, thousands of dogs are bred and raised for profit, valued not for their companionship or loyalty, but for the cold hard cash they bring.
Many consumers possess an image of puppies at a family farm, lovingly raised and cared for. Others may not even think about where a pet store puppy comes from. Drawn to a pet store window by a bin of wriggling puppies, the furthest thing from a customer's mind is the origin of these cute bundles of fur. But by buying a puppy, often for a price of $500 or more, the consumer is unknowingly supporting a cycle of abuse that begins at the puppy mill.
What the consumer can't see is the puppy's mother, imprisoned miles away, pregnant again, her body being used to produce more money-making puppies. Starting at six months, she is bred every heat cycle. She is often weak, malnourished, and dehydrated. Rarely, if ever, is she provided with veterinary care. She cannot maintain her productivity past her fourth or fifth year. After that, she is nothing more than a drain on the mill's operation and must be disposed of. If she's lucky, she'll be humanely euthanized. More often than not, she will be shot or bludgeoned to death. Discarded, her wasted body will lie forgotten in a local landfill or garbage dump.
This is the picture the pet stores will never show. And until recently, the ugly truth of puppy mills has been hidden. But when problems with many of the puppies bought at pet stores across the country began to surface, consumers and animal lovers alike began asking hard questions. Puppies with seizures, parasites, infections, bacteria, and behavioral problems were being seen far too often to be merely coincidental.
Puppy mills and the pet store industry have begun to feel this scrutiny. They insist that it doesn't make good business sense to sell sick puppies or house breeding females in less than humane conditions. But evidence gained after years of documentation and investigation directly conflicts with these assertions. In addition, those small scale breeders who do treat their animals humanely, who raise them in their homes or in small, cleanly kept kennels, do not usually make a profit off their dogs. It is virtually impossible to breed in a humane fashion and make money at the same time. Although a pet store may sell a puppy for $500 or more dollars, most commercial breeders can only get around $35 per dog from a broker who in turns sells to the pet store for around $75. In order to make a profit and cover costs, corners must be cut, and puppies must be churned out at a furious rate. The cut corners are the animals themselves: their housing, their health, their cleanliness. Inherent in the profit-making mills is the sacrifice of humane standards in order to make a profit.
What protection, if any, do these dogs and their puppies have? On the state level, puppy "lemon laws," existing in a handful of states including New Jersey and California, seek to offer consumers protection against buying sick puppies. Although these laws do chip away at the production of sick puppies, they do not address the inherent problem of the whole system: the selling of dogs for profit.
The federal level offers even less hope. The current system not only allows the continuation of a business that makes money off the backs of dogs, but fails in its responsibility to provide even a basic quality of life for dogs in puppy mills. Originally passed in 1966, the federal Animal Welfare Act was amended in 1970 to include in its provisions the oversight of large scale commercial dog breeding facilities. Regulations were written with the intention of ensuring the proper care, feeding, housing, and veterinary care for the thousands of dogs found in puppy mills across the country. Mandated by law to enforce these regulations is the United States Department of Agriculture (USDA). But with a shortage of inspectors responsible for overseeing these facilities, the agency has developed a reputation for failing to meet its mandate.
Not only have outsiders criticized the agency's ability to enforce the Act in relation to puppy mills, but several internal reviews have also illustrated the gross inadequacies existing at the federal level. Recently, a damning internal review conducted by the USDA's own office of the Inspector General of the agency's South Central Regional Office offered a bleak picture. The South Central Office, responsible for overseeing the majority of this country's puppy mills, was found to be sorely lacking in its ability to enforce the Animal Welfare Act. The report found that the office failed to respond to complaints from the public, failed to report a large number of blatant violations of the law, and that supervisors told inspectors not only where and when to inspect, but instructed their staff not to write up too many violations of problematic facilities. USDA Secretary Dan Glickman, embarrassed by the report's finding, has demanded the development of an internal plan to respond to the crisis within the agency.
The USDA is also feeling the heat over the puppy mill issue from members of Congress. After receiving constituent mail on puppy mills, Congressman Glenn Poshard (D-Il) and Senator Rick Santorum (R-PA), sprung to action. Working with The Humane Society of the United States and other animal protection organizations, they gathered over 100 signatures from members on both side of Capitol Hill in a letter to Secretary Glickman expressing concern about the problems found in puppy mills across the country. Sent late last summer, the letter has caused anxiety within the USDA.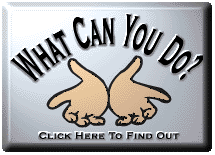 This Spring, the agency will consider enacting stronger regulations covering puppy mills as well as examining ways in which their enforcement powers can be increased. Although any change in the way puppy mills are regulated is an improvement, and stiffer rules may even shut down or discourage potential operators from opening a facility, the changes will not directly eliminate the mills themselves. Until the demand for mass-produced pet store puppies decreases, there will always be a buck to be made in the production of dogs.
Rachel A. Lamb is Director for Companion Animal Care at The Humane Society of the United States (HSUS) in Washington, DC.
©1999 Captain Planet Foundation, Inc. A Time Warner Company. All Rights Reserved. "Captain Planet and the Planeteers" and "The New Adventures of Captain Planet" and all characters, names and related indicia are trademarks of TBS Productions, Inc. (c) 1990-1996 TBS Productions, Inc. A Time Warner Company. All Rights Reserved. Original idea by R.E. Turner. For More Information, Please Read Our Disclaimer